When I posted about my AmorePacific skincare
routine
, I also mentioned that I was determined to try some different things. One of the first things I did was replace the AP Time Response Gel Creme with Mandom Barrier Repair Baby Moist Cream. My reasoning was, AmorePacific's description of its active ingredients sound awfully so like cosmetics company jargon that sounds scientific but is full of bull. Mandom stuff by contrast has stuff like hyaluronic acid for deep moisturization and sounds a bit more ... er... scientific like? Anyway, I liked it well enough during the depth of winter so I went and ordered the rest of the products in the range. The price of these items (which I ordered from Adambeauty) was a microscopic fraction of the price of AmorePacific.
Here are the additional items I've purchase:
Baby Moist Lotion - which is actually a very liquid-y toner
Baby Moist Milk - a super lightweight lotion
Concentrate Serum
said Baby Moist Cream
When you order things from adambeauty, it takes a bit of time to arrive. So in the few weeks I've been waiting for these various things to arrive, I've gotten supremely, unjustifiably lazy with my skincare especially for my PM. (Someone tell me if the Baby Moist name sounds disturbing as well)
Cleanse with Shu Uemura oil (going to finish this so I can fully transition to my coconut oil and Eve Lom).
Maybe double cleanse with CeraVe gentle cleanser if I feel inclined.
Apply some retin-a micro (2x a week)
Apply Mandom cream.
....which turns out to be not enough.
You know, I thought being in my forties and having nice looking skin was mostly through luck. Ha, so newp. Apparently skincare is a big part of it. And who knew, my AmorePacific million dollar routine was really a big part of it! *smacks forehead*
So dang. Poor Mandom stuff had better really hustle and go fix up my face now.
Meanwhile, I took all sorts of makeup-less photos of my face to show how terrible I look. And of course, nothing quite captures the blah. I do notice these days that makeup sits kind of on top of my skin and everything looks drier and more powdery. Huh, nice. And flakes seem to come and go with more regularity.
I'm in a yellow room, in a yellow shirt, with my yellow face
Picture doesn't look terrible at all. See, this is where a new macro lens would come super handy because then you would see fine lines radiating from the corners of my eyes and towards my cheek. It's not the aging and the lines that bother me. It's that it happened in 4 weeks. Hmmm. Black Magic.
My goal is to throughly gives these new products a go. At the very least, from the few days I've used it, my skin seems to tolerate whatever active ingredients are in there. I shall report back in the future with a more through assessment. Let's give these bottles a big round of applause and some encouragement. You see, they are going to help me put some more money into my wallet. That's some big job.
Look at me on this fine Saturday writing posts and stuff!
Follow me on Twitter
where I post all manner of silliness.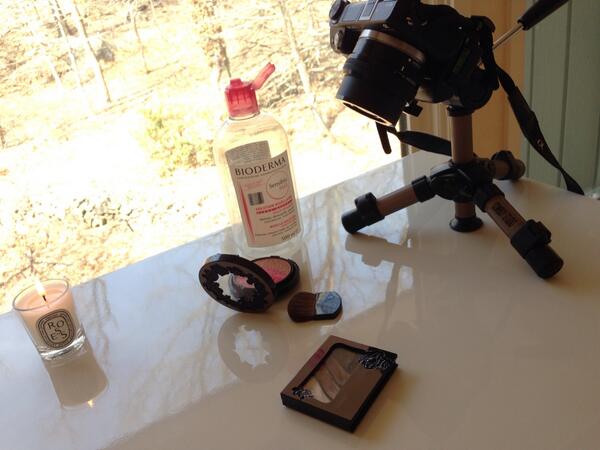 Have you also made some big changes to your skin care routines? How is it going for you?